Where are you from originally and how long have you lived in Houston?
I was born in Volgograd, Russia during the time of the Soviet Union and came to America in the late 90s to study for my MBA which is when I met my husband, Brennan. We have had the opportunity to live all over the USA since meeting (Kentucky, California, Illinois twice, New York and now Texas). We moved to Houston from NYC in 2013 when he was transferred by his company, Macquarie Bank. Houston quickly became our favorite place!
Child(ren) and Age(s)?
We have two boys: Sebastian (9) who goes to West U Elementary & Charles (15) who is a sophomore at Strake Jesuit who also graduated from West U Elementary & Pin Oak Middle School.
One thing people would be surprised to know about you…
I started a restaurant in Russia when I was 19 years old shortly after the Soviet Union collapsed which was very successful. In fact, because of my restaurant's success I got nominated to participate in a business exchange leadership program for young entrepreneurs which first brought me to the USA.
Favorite local activities to do in Houston?
On nice days our family spends time bicycling around West U and the different bayou trails and my husband and I frequent the museums often. Plus we are involved in lots of charitable events. This summer we spent time visiting places all over Texas like Marfa and Lubbock where we went to the Buddy Holly Museum.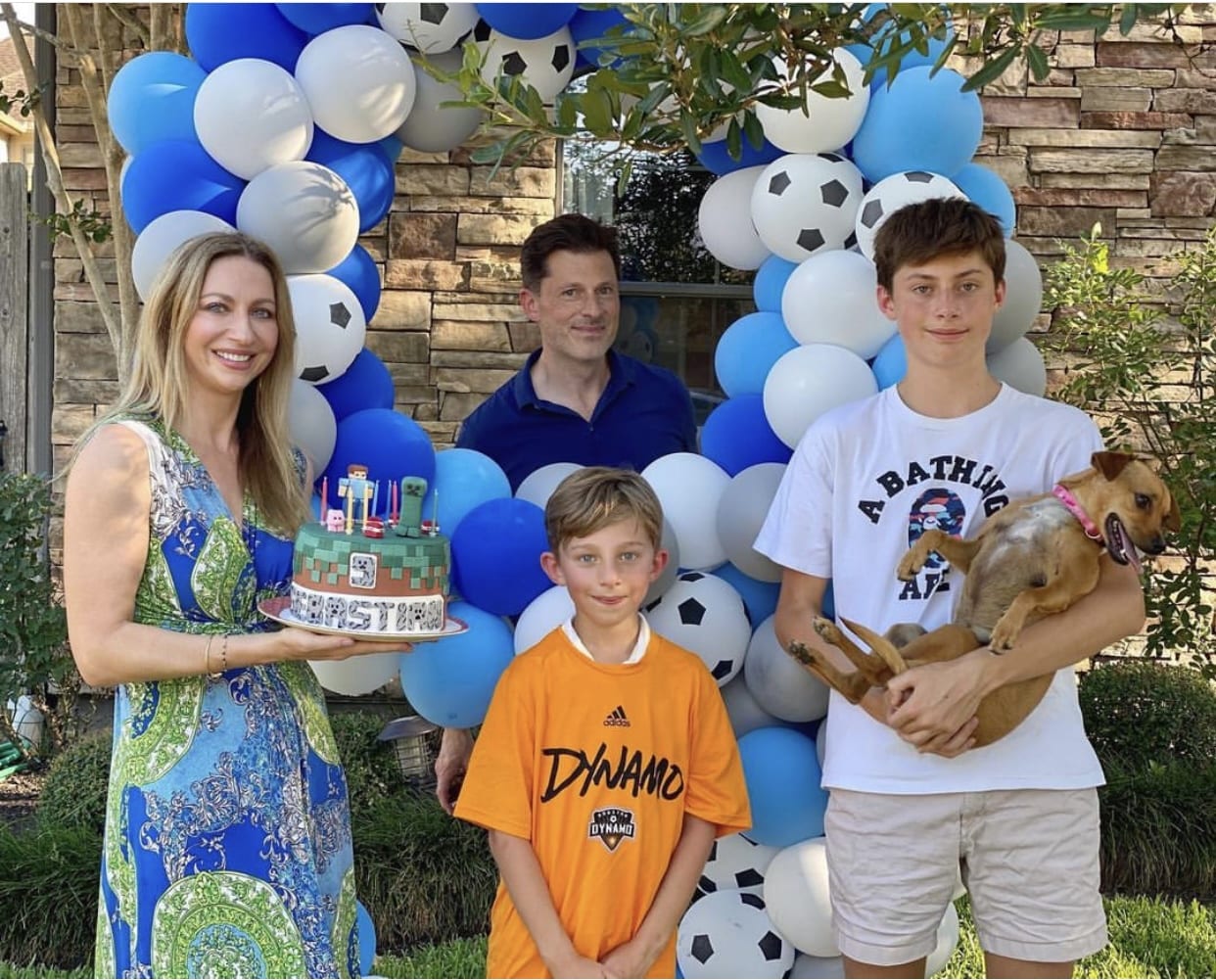 Do you have a favorite family-friendly restaurant in the area?
Whenever we think about going out as a special treat as a family the default choice is always Kata Robata. Even after visiting Japan for our anniversary in 2017 and having some of the best sushi possible we think Kata Robata can stand among the best Japan has to offer. For casual meals Enoteca Rossa usually gets the nod. Their pizza & pasta dishes are excellent and they have worked so hard to provide incredible service to their customers during the pandemic.
What local places do you go to for pampering and/or mom's night out?
I love Milk & Honey on Kirby for pampering and for mom's night out my backyard is the perfect place to relax with friends (my husband is an excellent sommelier).
Are you involved in a business venture, a local organization, a creative endeavor, or in the corporate world? Please share! 
I feel fortunate working with one of the biggest international real estate firms in the world, Keller Williams. The transition from my previous entrepreneurial background was very natural. Having moved all over the USA, working with so many relocation companies and having to learn about different markets plus being a foreigner having transitioned here on my own many years ago I have first hand experience about what it takes to find the right house or sell the house you have, getting settled with schools and making a move go smoothly. I have been investing in real estate for about 15 years and have properties all over the USA plus properties in Europe. My husband jokes that we pick our vacation spots based on me wanting to learn more about the real estate market wherever we are going. I got serious about doing real estate as a profession when we were living in NYC and was happy to continue it when we moved to Houston. I was "rookie of the year" the first year I joined KW Metropolitan. My goals is to find best solution for my clients realizing and have a fast and smoothest transaction. And what I love the best about my job is when my clients become friends!
How has the Houston community been instrumental in getting you to where you are now?
We have loved Houston from the moment we arrived – everyone is so friendly and helpful! Amazingly I was so lucky to have a lot of friends here already before we moved due to my involvement with the American Women's Organization in Moscow when I lived there 2002-2004. Pretty much all the ladies were from Houston and we became such close friends. Now everyone has moved back and we see each other regularly!
What is the best advice for juggling mommyhood and running a business (or volunteering, working, etc)?
Set a schedule, prioritize and always carve out time for yourself to keep sane. I also like to remind myself that stress doesn't really exist and it is rather our perception and attitude that puts pressure. Live in the moment and stay present to keep your awareness and perspective. And if you're starting to feel overwhelmed, find a moment for yourself to do something joyfull even only for a short period of time.
What would you tell the old "You" before you had kids?
Never judge any parent including your own parents. Raising children is the most challenging job and we are mastering it in real-time. Winston Churchill said "it is easier to rule a country than to raise four children". So very true! I thought I was very busy before kids. Now I am thinking how much more I could have accomplished having all that spare time. Kids definitely taught me to be more focused.
Funniest shortcut/routine for helping you through parenthood?
Calling my husband has always been my best shortcut!