Where are you from originally and how long have you lived in Houston?
I was born and raised in St. Louis, MO, and moved to Houston in 2010 right after graduating from University of Tulsa.
Child(ren) and Age(s)?
Lucy (5), Stella (3), and my sweet dog Peach (11). Dogs count too in my book!
One thing people would be surprised to know about you…
I love Math – I majored in it in college! I am a numbers nerd.
Favorite local activities to do in Houston? 
I love going to the Park with my kids! Our favorites are Memorial Park, Oak Forest Park, and Buffalo Bayou Park to name a few.
I consider myself a low-key foodie. I love going out to eat any chance I get. A few of my current favorites are Crisp, Millies (perfect with kids!), & Kin Dee for a date night (order the Phuket in a pineapple – you'll thank me later).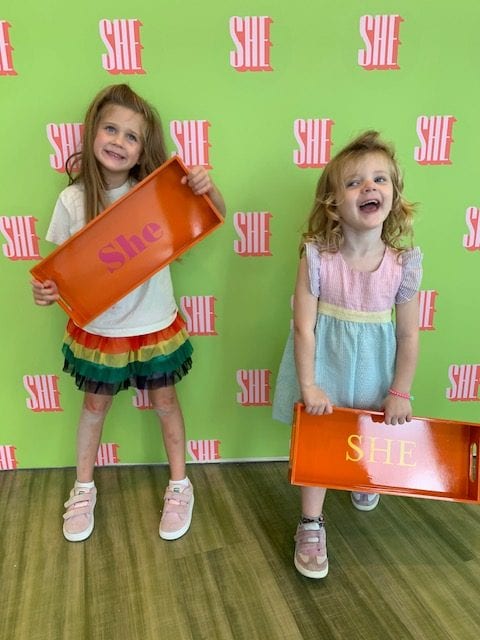 Are you involved in a business venture, a local organization, a creative endeavor, or in the corporate world? Please share! 
I am the proud Co-Founder & CFO of SheSpace, a female focused coworking space located in the lower heights. 
Our mission is to create clear pathways for women to accomplish personal and professional goals through the convenience of a female-fueled space. SheSpace provides amenities, events, and spaces for women to increase productivity and satisfaction, and minimize stress and wasted time. We have exercise classes, weekly speakers, networking events, and more!
SheSpace envisions Houston as a city where women have an inclusive place to unite, network and work unencumbered. We develop bold, unapologetic women who thrive together. It provides an incomparable, inspirational workplace and meeting experience for women, in a space created and designed by women.  
Follow us on IG: @shespacehtx
How has the Houston community been instrumental in getting you to where you are now?
Houston is truly a special place. I have never lived in a place where people are so friendly, welcoming and resilient. We have marched through countless hurricanes, COVID, floods, etc. with a positive attitude to carry on and thrive. It is because of this characteristic that I believe SheSpace will thrive. Houstonian women have been so open to and supportive of our mission of creating a community of women supporting each other. I meet new women every day and it never ceases to amaze me how lucky I am to live in this community.
What is the best advice for juggling mommyhood and running a business (or volunteering, working, etc)?
Accept help from friends and family. It's ok to not do it all yourself!
The Motherhood Center babysitting services have been a lifesaver to me in a pinch. You can book babysitters by filling out a form online – it's just so easy. The babysitters are all vetted and wonderful people. 
What would you tell the old "You" before you had kids? 
Travel every chance you get! Boy does it hard after kids get in the picture.
Funniest shortcut/routine for helping you through parenthood?
Real Housewives of Anything. Watching reality TV after bedtime always takes my mind off any worry I have had throughout the day & I can truly unwind. Thank you, Bravo!