With 'ROCO on Buffalo Bayou,' the ensemble curates miles of trails along Houston's waterway with site-specific audio streams of ROCO's past performances, accessed via posted QR codes.
The music selections, chosen specifically for 40 trail stops highlighting the bayou's landmarks and public art, invite visitors to spend time outdoors and participate in a musical scavenger hunt.
ROCO is excited to announce a new project with the fellow Houston-based Buffalo Bayou Partnership, a non-profit organization that has spearheaded the revitalization and transformation of Buffalo Bayou, Houston's most significant natural resource. Through this collaboration, visitors can explore miles of trails lining the Buffalo Bayou to discover QR codes posted at landmarks and public art works, which each link to a specific piece of music performed by ROCO, specially selected for each location or art installation and curated by the ROCO team.

Some of the works that will be included in the project include Flying Sirto by Erberk Eryilmaz at the Waugh Bat Bridge, Brad Sayles' Buffalo Bayou Suite near John Runnels's steel canoe sculptures, Alexander Miller's ROCOmoji (a Concerto Grosso for Double Reeds) second movement, titled "OMG", at the Lee and Joe Jamail Skatepark, Alejandro Basulto's Tríptico de Luz at the Hidalgo Park Historic Gazebo, and Shostakovich's Ballet Suite at the Sesquicentennial Park Monument honoring James A. Baker III, who helped oversee foreign policy at the end of the Cold War.

Chosen from ROCO's 15 years of live performance recordings, the repertoire features a mix of pieces by historical and contemporary composers – including 13 of ROCO's own commissioned world premiere works, seven pieces by female composers, and ten by composers of color. A recent study from the Institute of Composer Diversity found ROCO is the number one ensemble in the US for performing the works of women and number two for the works of composers of color.

"We can now physically weave our music through our community, providing a soundtrack for Houston! ROCO has always offered our recordings for free listening and now you can also enjoy the wonders of Buffalo Bayou while on a musical scavenger hunt," said ROCO's Founder, Artistic Director, and principal oboist Alecia Lawyer.

"We are thrilled to host this project by ROCO along the Buffalo Bayou Park trails," said Karen Farber, BBP's VP of External Affairs. "Now those walking or riding along the bayou can experience their surroundings in a whole new way. We hope our visitors will explore all 40 sites throughout the fall."

The initiative will be in place from September 25 to December 31, 2020, in celebration of the Buffalo Bayou Partnership's 5th anniversary.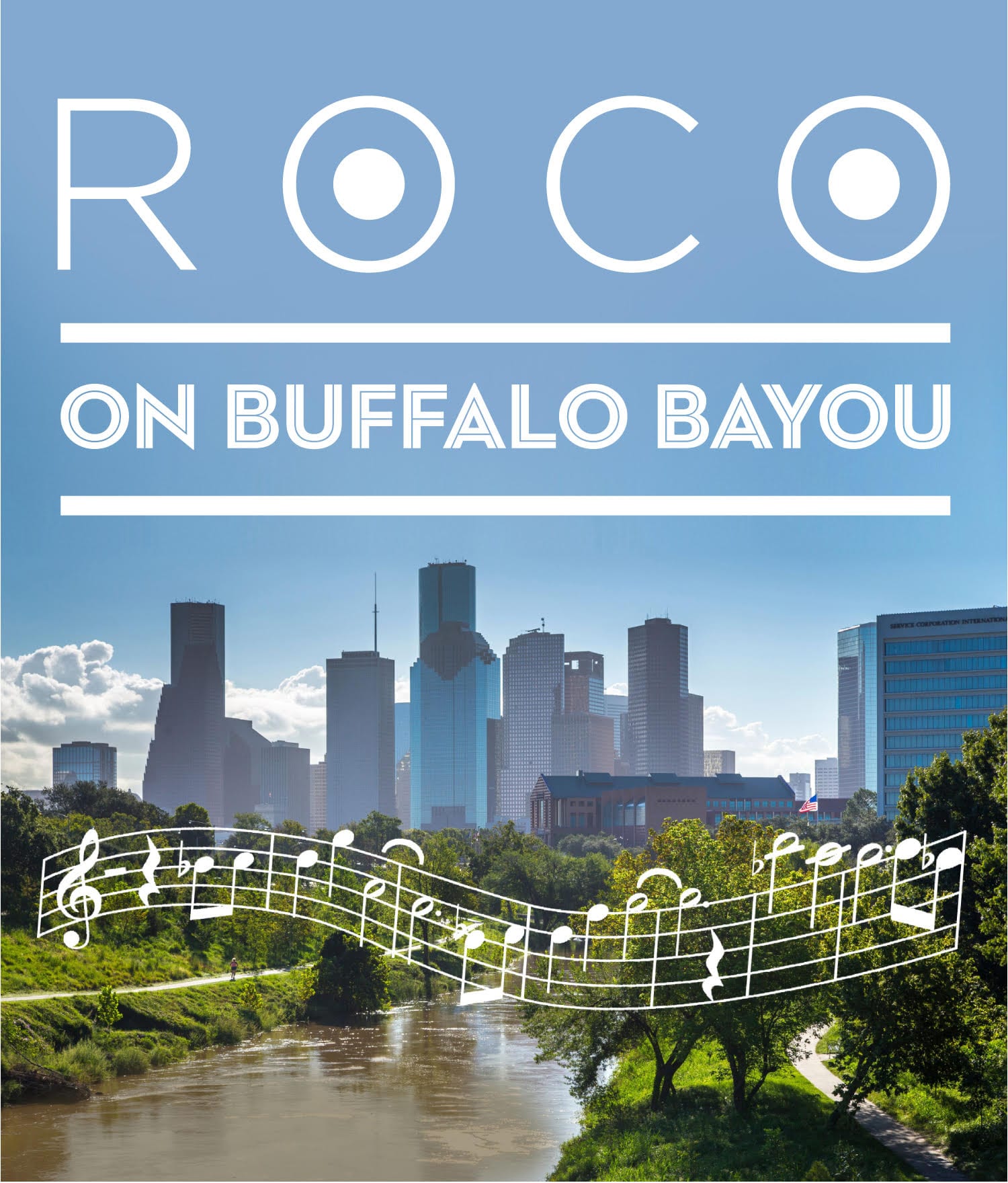 About ROCO
ROCO is a dynamic and innovative professional music ensemble that flexes from 1 to 40 players from all over the US and Canada, with guest artists from around the world. Performing intimate concerts in dozens of venues, ROCO's musicians don't just give concerts – they challenge preconceptions, create extraordinary experiences, and foster new relationships with audiences through the language of music. ROCO's debut album, Visions Take Flight, was recognized for a GRAMMY® Award for Producer of the Year for Blanton Alspaugh.
Widely recognized for diversity in programming, a recent study from the Institute for Composer Diversity found ROCO is the number one ensemble in the US for performing the works of women and number two for the works of composers of color. Additionally, ROCO has the third-highest number of commissions in the United States and has premiered nearly 100 commissions from living composers. ROCO embraces technology, with free worldwide concert livestreams and real-time artist commentary via a smartphone app, as well as on-demand recordings of past concerts via popular music streaming services. A vital part of the community, ROCO concert DVDs are sent to nursing homes and hospitals to bring music to those immobile communities, and their music education/childcare program attracts multigenerational audiences.
About Buffalo Bayou Partnership
Established in 1986, Buffalo Bayou Partnership's (BBP) geographic focus is the 10-square mile stretch of the bayou that flows from Shepherd Drive, through the heart of downtown into the East End, and onto the Port of Houston Turning Basin. Thanks to the generous support of foundations, corporations, individuals and government agencies, BBP has implemented more than $200 million in improvements for the redevelopment and stewardship of the waterfront – spearheading award-winning capital projects, protecting land for future parks and green space, constructing hike and bike trails, and operating comprehensive clean-up and maintenance programs. In 2015, BBP completed the $58 million Buffalo Bayou Park project. This 160-acre greenspace lies west of downtown Houston and includes beautiful gardens and native landscaping; hike and bike trails; paddle craft and bike rentals; the go-to dog park in the city; public art; a creative nature play area; two visitor centers; and gathering places for visitors to picnic, relax and enjoy outdoor activities. Buffalo Bayou Partnership maintains and operates Buffalo Bayou Park, with annual funding provided by the Downtown Tax Increment Reinvestment Zone (TIRZ) #3.
Buffalo Bayou Partnership also activates the waterway through pedestrian, boating and biking amenities; volunteer activities; permanent and temporary art installations; and wide-ranging tours and programs that engage tens of thousands of visitors each year.