We're all moving towards safer and more natural ways to clean our homes but sometimes the high price tags attached to premium green cleaning products can be a big deterrent.  Which is why I had to share Art of Green™ with you all. Available at H-E-B, this amazing line of  socially responsible cleaning products are non-toxic, contain no harsh chemicals and contain a biodegradable formula that is completely safe to use around kids and pets. The best part is how effective the entire line is for every day clean-up around the house.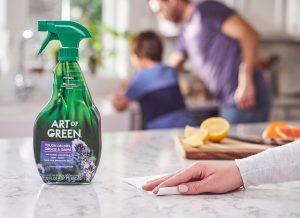 With summer in full swing, it seems impossible to keep the house clean and the kids snack all day long, leaving crumbs everywhere they go. Art of Green™ has been a life-saver, helping me tackle countertops and surfaces at a low cost. Their multi-surface spray cleaner is the MVP in our house because it is 98% naturally derived and is incredibly tough on dirt, grease and grime while being gentle on sensitive skin. We love using it in every single room of our home and the fresh scent is such a mood-lifter too! 
 Plus the cleaning wipes are perfect for when I'm on the go with the kiddos and need to clean up on the quick. I especially love that this naturally derived cleaning line also practices environmental sustainability and package all their products in in 100% post-consumer recycled material!
Another huge plus point in my books is the fact that Art of Green™ is USDA-certified as a bio-based product and dermatologically tested to ensure safe and gentle use with every clean! Head over to the cleaning product aisle the next time you're at HEB and see the difference for yourself; not just for your home but your wallet as well!
*This post has been sponsored by Art of Green.
All thoughts and opinions are my own.