Huntington Learning Center
2020 was a tough school year for a lot of kids and parents.
Due to Covid, our students missed out on mastering the skills needed to step up for success this fall, and the expectations for this school year haven't changed. 
For example, Last year first graders started their first school year online. So for them, this school year will be their first year in a classroom. It's like starting school all over, with higher expectations in new surroundings.
I want to share 4 quick tips to help you transition your child back into the classroom. I'm talking kids K-12.
Meet the Teacher – Ask a lot of follow-up questions and be sure you understand the teacher's expectations. I encourage more parent-teacher communication through this year.
Hire an Academic Coach for Middle and High School students to help with executive function skills.  Focus on building stronger Critical Thinking, Analytical and Problem Solving skills.
Guess what?—Due to COVID and online learning,  reading skills regressed by 40% and Math skills by 75%.  So, schedule and complete a comprehensive academic assessment to understand your child's strengths and weaknesses in subjects like reading comprehension, math and writing skills.
Get feedback from your child. 
Ask how you can help?  Find out their concerns about the upcoming school year?
These tips will help their child get on track at school this year. If you have any additional questions, Huntington can help!  Call us at 832-834-4751.   Huntington Learning Center West University 2726 Bissonnet, Ste 300, 77005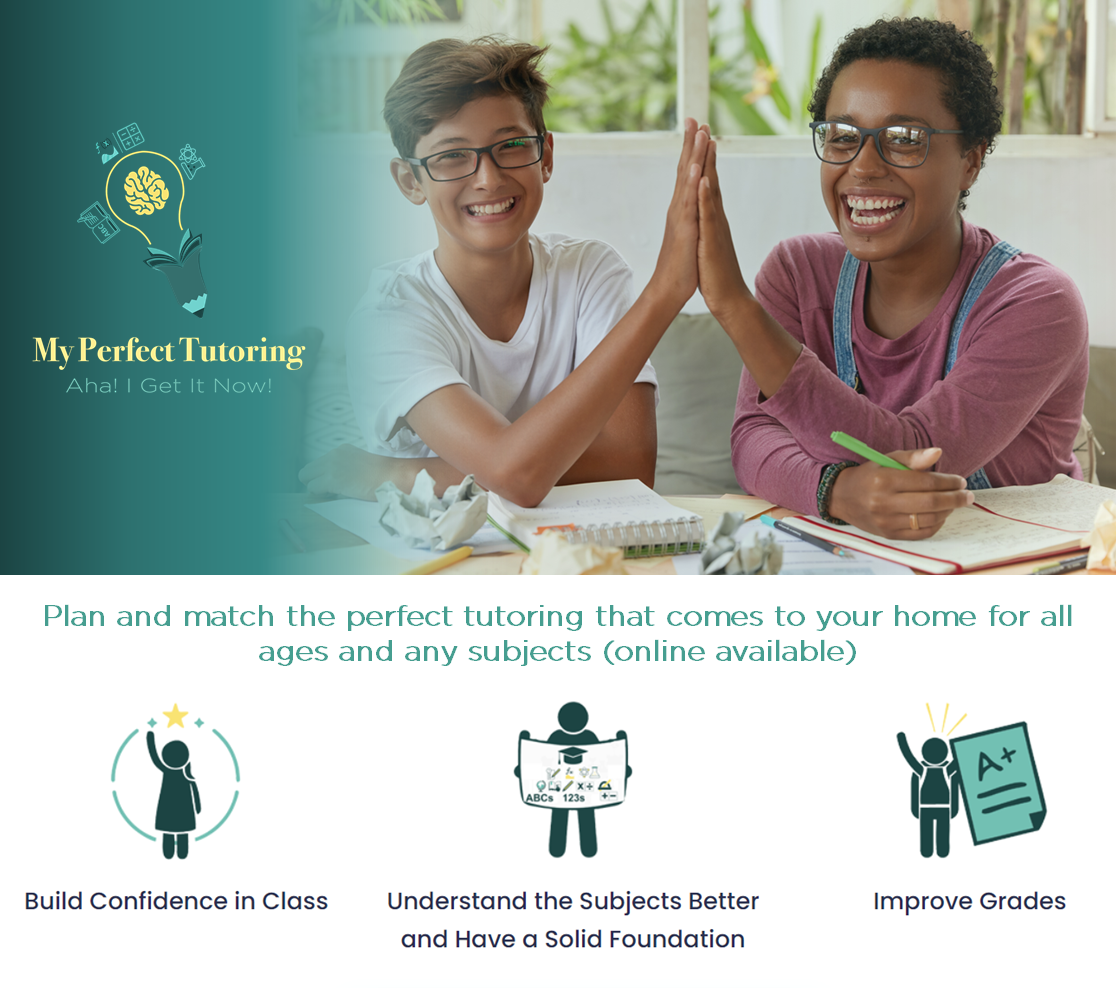 Do you need some extra help with your child's school and education?
Sometimes it can be frustrating and not sure where to start. But, that's okay because My Perfect Tutoring can help by providing your perfect tutoring service that comes to your home, but online is also available. You'll get the perfect tutor and a plan to help with any school struggles and to reach your academic goals for all ages and any subjects. We figure out all of that by doing a free consultation and free assessment.
Now accepting new families and students and get 2 Free Tutoring Hours when you sign up with a plan. Just mention West U Moms.
Click below to get started!
IDEA Lab Kids Bellaire will be offering pick up services from Horn Elementary and Lovett Elementary this coming school year. Students will be picked up from their respective schools and transported back to our campus for 2 STEAM enrichment classes per day with homework help. We have 2-5 day options available and we offer care until 6:30 p.m., Monday – Friday.
Limited spots are available. Please click the link below or call us at (832) 993-1213 for more information.
We offer 30, 45, or 60 Minute Music Lessons For All Skill Levels and Ages In the Privacy of Your Own Home Or Business Or At Our Studio Location At Rockin'Robin Guitars & Music.  & MUSIC.

MFAH The Glassel School Of Art
Children ages 3–18 can let their artistic talents shine in fall art classes at the Glassell Junior School! New students can enroll online beginning August 12.
Limited enrollment and enhanced safety protocols remain in place to ensure a safe, nurturing in-person environment. In-person classes may move online if necessary to meet pandemic health and safety recommendations by health officials and Museum administrators.
Monart is more than a method that teaches people how to draw. Leading educators recognize Monart as a teaching system that helps students to focus and concentrate, make decisions, solve problems, sequence and develop hand-eye coordination. In a peaceful environment students learn that drawing is a teachable subject in which anyone can be successful.
Just as we are taught how to combine basic phonetic rules to read, musical notes to play an instrument, and dance steps to dance, the Monart Method teaches the individual to draw using the five basic Elements of Shape. Once students recognize these elements, they are guided as to how they might combine them on paper so that their drawings represent what they see. Each week students work with our highly qualified, supportive instructors on projects designed to teach the Elements of Shape and to create a unique and fully-developed composition. At Monart we explore a wide range of subject matter, media, and artistic techniques so that students may continually develop their skills at their own pace.